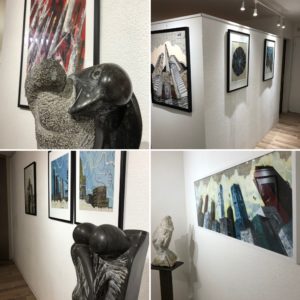 GALERIE L'ANGLE D'ART, ST-BLAISE 2021
Exposition du 27 novembre au 18 décembre 2021 à la galerie l'Angle d'Art de St-Blaise (Canton de Neuchâtel, Suisse). Voici une visite virtuelle pour celles et ceux qui n'ont pas la chance de faire un tour à cette galerie.
Infos: www.angleart.ch
Les magnifiques sculptures sont signées Elouni Janhaoui.
Horaires de la galerie:
lundi: Fermé
mardi: 15:00 – 17:30
mercredi: Fermé
jeudi: 15:00 – 17:30
vendredi: 15:00 – 17:30
samedi: 14:30 – 17:00
dimanche sur rendez-vous
(Video & music © Christian Zilocchi)
Exhibition from 27 November – 18 December, 2021 at the Art D'Angle Gallery in St-Blaise (Canton of Neuchâtel, Switzerland). Here's a virtual tour if you don't have the chance to visit this amazing gallery!
The amazing sculptures are made by Elouni Janhaoui.
Infos: www.angleart.ch
Opening hours of the gallery:
Monday: closed
Tuesdday: 15:00 – 17:30
Wednesday: closed 
Thursday: 15:00 – 17:30
Friday: 15:00 – 17:30
Saturday: 14:30 – 17:00
Sunday on demand