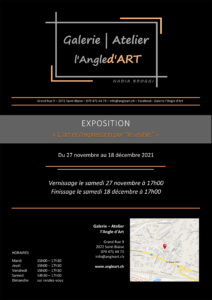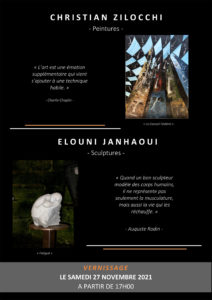 SAVE THE DATE!
À partir du samedi 27 novembre 2021, j'ai le plaisir d'exposer une partie de mes tableaux aux côtés des magnifiques sculptures en pierre d'Elouni Janhaoui à la Galerie L'Angle D'Art à Saint-Blaise (NE – Suisse)
Le vernissage aura lieu le 27.11.2021 à 17h00.
Exposition du 27.11 au 18.12.2021.
Venez nombreux !
Informations utiles: https://angleart.ch/
_____________________________
From Nov. 27, 2021 until Dec. 18, 2021, you can discover some of my paintings among the amazing sculptures from Elouni Janhaoui at the Galerie L'Angle D'Art in St-Blaise (Canton of Neuchâtel, Switzerland).
Infos (in French): https://angleart.ch/